340 Main Street, Gaithersburg, Maryland 20878     11:00am - 6:30pm, Monday - Saturday      301.330.4418      eDraperyDesigns@gmail.com
About Drapery Designs
 Drapery Designs is one of the top providers of custom window treatments, drapery and upholstery products and services in the Washington, D.C. area. Having worked with interior design clients for over 9 years, our services include providing advisory services to designers, as well as creating custom fabric products for commercial and residential clients.
Showroom
Our elegant showroom displays all our original designs from sophisticated to simple and modern styles, a great source of inspiration for your home decor.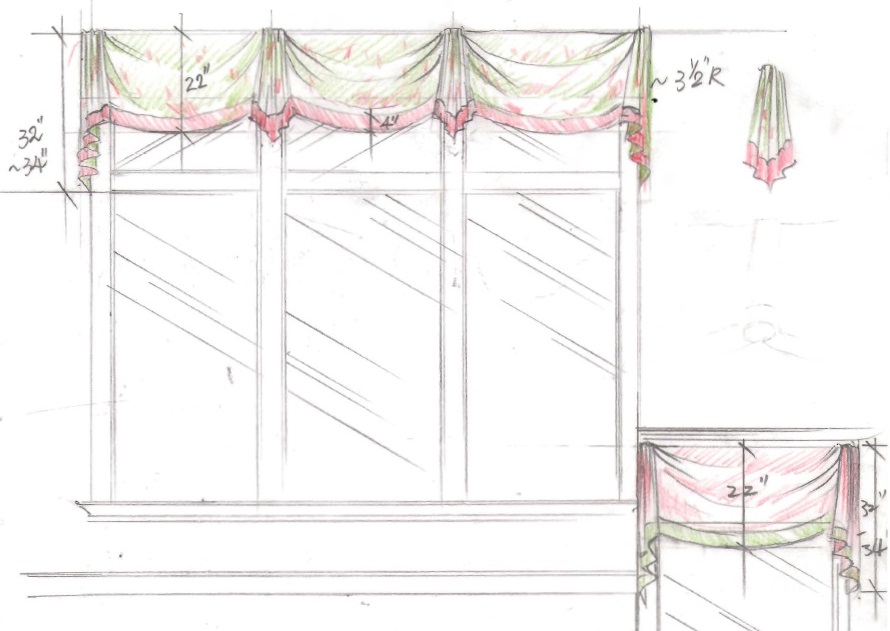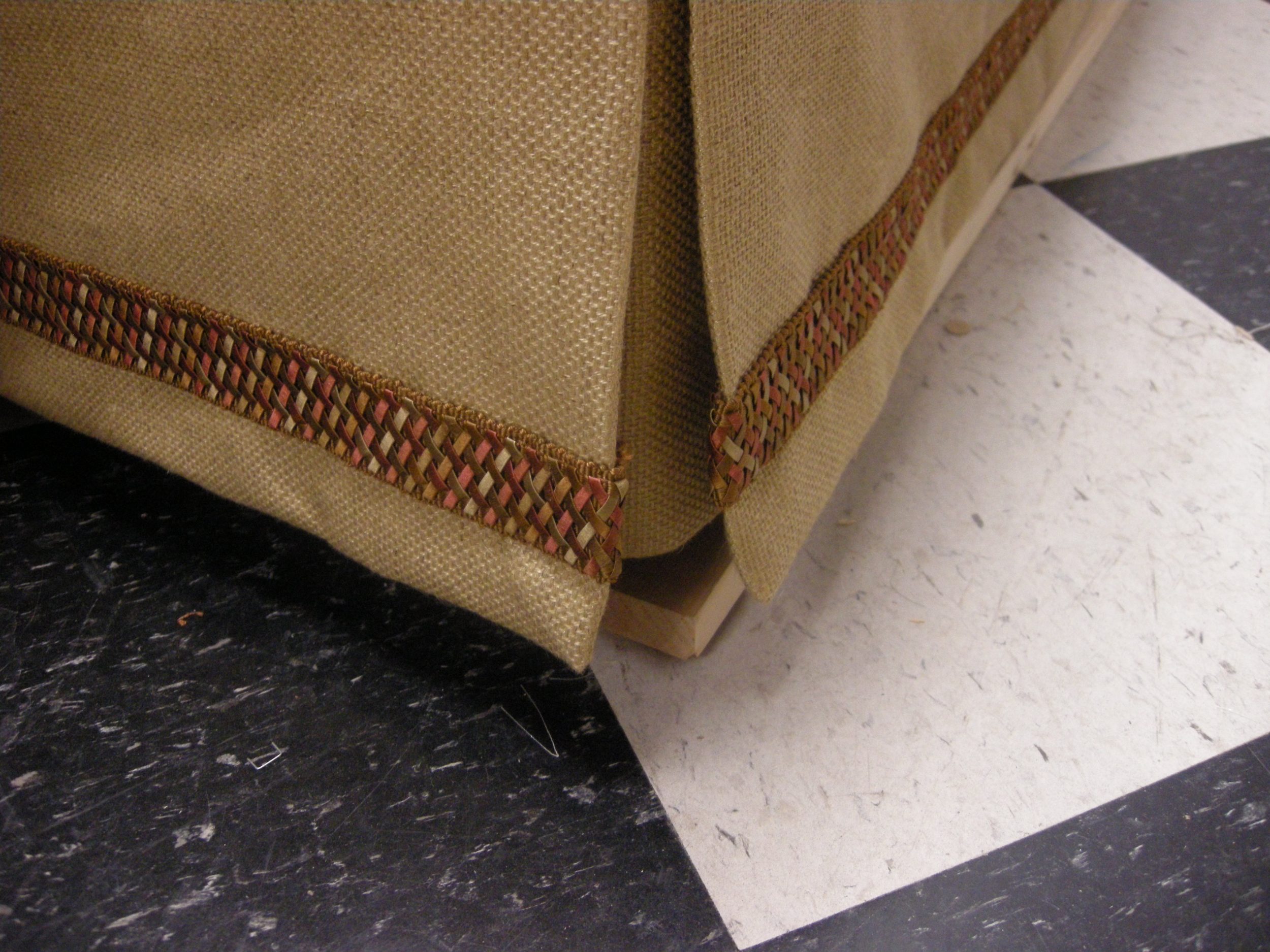 Alteration
We are one of the select few workrooms in the area to specialize in drapery alterations; in most cases, we can alter any window treatment to your specifications. We are also experienced in altering bedding and upholstery items.
Trade Client
Over ten years in the business, we have retained over 95% of trade clients for repeat business after an initial project. Our custom workroom fabricates drapery and upholstery designs based on designer's vision and original sketches. Besides working with interior designers, we also specialize in working on commercial-buildings projects with unique specifications. Interested in placing an order as a trade client? Click here to fill out a trade client application!
Workroom
Drapery Designs is an award-winning workroom with master artisanship in fine custom window covering, bedding and re-upholstery.
What They Say
"Dao made the drapery specification process easy and creative beautiful draperies for two rooms in my clients home. I'll definitely be returning for my next window treatment job!"Karen Schlesigner

"Our design firm has worked with Drapery Designs for several years. The work is always of the finest quality and their service is exemplary. The owner, Dao Zhao is knowledgeable in all aspects of window treatments and has worked with us on several concept designs that she brought to fruition flawlessly."Lynni Megginson, L&M Designs

"I am a home owner and used the services of Drapery Designs for some custom curtains and a chair slip cover. Dao listened to my needs, proposed various fabrics she thought I would be interested in and always kept in mind my price points. Their customer service, installation and quality of the end product is outstanding! Highly recommend!"Kate Frownfelter

"Drapery Designs has become my "Go To" workroom for all my Client window treatments and upholstery needs. Dao Zhou exhibits the utmost professionalism and quality of workmanship. She always strives to estimate the work as closely as possible and complete the work on schedule."Elise Moore

"Dao is very focused, thorough and timely; from scheduling the first appointment, to the delivery and installation of our draperies; everything was well-planned and on schedule. The master bedroom is now "finished" and became an oasis where we can escape. Thank you very much!"R. Felix

"We have worked with Drapery Designs since we started our company. They have fabricated drapery, pillows and bedding for our projects at an exceptional level of quality. They are very easy to work with, clean up after themselves and are always on time."Jessica Bauer, Edge Design Studio, LLC

"Dao Zhou was delightful, efficient, attentive to our wishes, but willing to contribute her aesthetic point of view which helped to guide us in the right direction. Our order was delivered on the promised date. The workmanship was superb, and the overall result was exactly what we had hoped—tasteful and elegant."Alan and Doris Rochlin

"Drapery Designs has a wonderful selection of fabrics, their customer service is outstanding, and the quality of their installation work is impeccable. I have tapped into their expertise for two installations so far and plan on working with them for the remainder of our drapery and shade needs throughout our house. I would give them my highest recommendation."Lisa N

"As an Interior Designer I've been working with Dao of Drapery Designs since 2010 and have been very pleased with both her skills and business ethics. She is professional, courteous, and always pleasant to work with. My clients are delighted with whatever we create together for them."Dastvan Designs, LLC

"I am very happy with my beautiful room darkening draperies. Now I can sleep much more soundly without being awaken by the early morning light. Dao did an amazing job and her customer service is next to none. I highly recommend Drapery Designs!"Sharon Casertano
Why Us?
Drapery Designs is an award-winning workroom with master artisanship in fine custom window covering, bedding and re-upholstery.
Creativity at its best
Great design comes with understanding customer needs.

See Portfolio
Frequently Asked Questions
Residential Clients
What is your service process for residential clients?
First we meet residential clients in the showroom and discuss the scope and details of the project as well as narrow down fabric selections and designs. This way, our designer will be well-prepared with appropriate equipment to do the in-home consultation. Our turnaround time is about 4 to 5 weeks from the day clients submit their order. There is a 50% deposit when placing your order, with the balance due upon receipt of the product.  
How long does a project take from start to finish?
Our turnaround time is about 4 to 5 weeks from the day clients submit their order. 
Do you do custom-owned material (COM) products?
Yes, we work with COM fabrics. We offer a discount for projects using our fabrics; this discount would not apply to project using COM fabrics. Unfortunately, we do not provide COM hardware installation services.

We also want to add that, for COM projects, please take care to inspect the material for flaws, dye lot, and yardage beforehand. We will do our best to detect any damages during cutting or fabrication, but ultimately we are not responsible for any defects. 
What if we need to rework a completed project?
All claims for rework on custom orders should be made within 30 days of the invoice date. Any rework items will have priority in the workroom for prompt return. 
What is we need to cancel an order after work has begun?
If an order is cancelled after we have begun work, the client will be charged for the proportion of labor that has already been done. 
Professional Clients
What is your service process for wholesale clients?
For wholesale clients, all orders and any changes are submitted with an order form(through email, in person, or mail).

Order forms

will be available at the showroom. The same form is used to submit a re-order. There is a 50% deposit when placing your order, with the balance due upon receipt of the product.  
How do we obtain a wholesale account?
Simply fill out the

application form

and also include a copy of your business license and resale tax ID. 
Do you have general liability insurance?
Yes. We have a million-dollar business liability insurance and workman's compensation. Our insurance policy form is available upon request. 
Do you offer any re-measuring services (double checking measurements)?
What sets you apart from other fabricators?
Here at Drapery Designs, we always strive to do a little more for our customers through:
1.       Free re-measuring service with your purchase order.
2.       Response to quote requests in 12 business hours
3.       Return of all remaining materials back to clients.
4.       Close follow up after every job.
5.       A million dollar business liability insurance and workman's compensation. 
Schedule an Appointment

Just as a masterpiece painting deserves an equally elegant frame, the most beautiful room arrangement can be perfected or ruined by the drapes that frame it. Our passion and art at Drapery Designs is crafting window treatments worthy of lovingly adorned homes. 

Schedule a free in-store consultation to discuss your custom drapery needs. We will contact you once to set up an appointment. No spam, no solicitation, and we will never share your information.
Address
Walk-ins are welcome! Come stop by during our business hours.   340 Main Street, Gaithersburg, MD 20878  11:00am - 6:30pm, Monday - Saturday  301.330.4418  

eDraperyDesigns@gmail.com
Elsewhere
Connect with us on our social networking sites.